Go Further... Faster with LactiGo
LactiGo will help you recover while you perform to a higher level than ever before
Recover faster

during and after athletic activity

Topical carnosine gel

, applied directly to the desired muscles for

targeted results

Relieve pain

during and after exercise, reducing downtime

Prevents muscle fatigue

that limits athletic performance
LactiGo Menthol Bottle 3.4 fl. oz. (100ml)
Active Ingredients: Menthol 1.25%.
Inactive Ingredients: Ethoxdiglycol, Glycerine, L-Carnosine, Magnesium Sulphate, Phenoxyethanol, Water, Xanthan Gum.
We know that you're going to love LactiGo!
We're standing behind it with a full refund on the product if you are somehow not satisfied. Order a bottle, and if you don't like it, you get to keep it anyways.
Customer Reviews
06/10/2020
Todd B.
United States
It works !
Very pleased. Super easy to apply and no greasy residual. So far it really seems to do what they claim!
06/05/2020
Andreas F.
United States
Amazing Product
As an ultra cyclist who was preparing for the Race Across the West (now cancelled), my focus shifted to vRAW, which is the virtual event. Riding 1000 miles on the trainer is very taxing on the muscles and quite different than riding outdoors. I have broken my training for vRAW down into 3 blocks of 6 hours of riding. I found LactiGo to be just what i needed. This is a tremendous product as it helps soothe sore muscles after many hours on the bike and aids in a quick recovery to enable riding just as hard the next block or day. LactiGo goes on very easily and smells great. As the days of training wear on, I feel as my performance is equal if not stronger based on using LactiGo. I would highly recommend you check out this product and say good bye to muscle soreness and hello to quick recoveries. Well done LactiGo!
Thanks for the feedback Andreas! Great to hear that it has helped with your soreness :D
06/04/2020
Jonathan G.
United States
No Crampin
I was extremely happy that I didnt cramp up. I ushallh cramp up right above the knees on the inside legs. I used it recently riding last 4 weeks. I also used it for Sking at Mammoth last Feb right before the lock down due to the pandemic. It help with muscle soreness. The only CON I will have to say about this product is the time it takes to absorb. It takes a while. I do put it on 30 to 45 min before I ride. It has Definitely been workin ! Extremly Happy with this product ! Just recieved my 2nd bottle. Thank you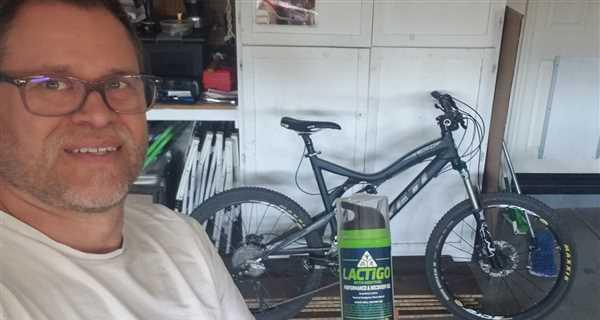 Thanks for the detailed review, feedback, and photo Jonathan! When you are applying LactiGo, it should be about 1-2 minutes for the moisture to be absorbed if you continue to rub it in. We recommend continuing massage it into the area, rather than letting it sit on the skin. This speeds up the application time! Although we recommend putting LactiGo on 45 minutes prior to exercise, you can put it on right before you go out as well. It starts going to work very soon after application, but it won't reach its full effectiveness until about 45 minutes after. For example, if you were going on a 2 hour ride and put it on just before you left the house, then it would start gradually building in effectiveness over the first 45 minutes. It should have reached full effectiveness by about that 45 minute mark, but could be sooner, and will depend on your exercise intensity!
JT
06/03/2020
Jennifer T.
United States
This stuff works!
Fantastic, no mess, I've tried other topicals and felt like they did nothing.
Thanks for the feedback Jennifer! There's no need for any other topical out there now that you have LactiGo working for you :D. We're happy to hear you're loving it!
06/02/2020
Mark H.
United States
No kidding - it works
Having now conducted a series of unofficial stress tests with Lactigo on longer rides, I'm certain it does precisely what it aims to do: reduce muscle fatigue both during and after. We're believers.
Thanks for the feedback Mark!
06/02/2020
Tim M.
United States
Was a skeptic of such claims
As an older 60+ cyclist I decided to try LaticGo based their support of a cyclist in his self-proclaimed worst retirement ever. I have applied LaticGo both pre and post ride. I can attest that is changed my ability to ride in my push into threshold range longer than in the past. Moreover, post ride application I experience less muscle soreness and faster recovery.
Thanks for the feedback Tim! Great to know that LactiGo has been able to help you on your rides, and is relieving muscle soreness.
06/02/2020
Anna H.
United States
Great product
We continue to experience great results with Lactigo in my training for half marathons and mountain bike riding.
Great to hear Anna! Thanks for your feedback
06/01/2020
Martin B.
United States
Great Product
I have used this product for some time now and believe it to be highly effective.
05/31/2020
Ray H.
United States
Better Than Expected
This product is very effective and works quickly. The muscle fatigue relief allows me to continue workouts sooner and longer.
Thanks for the feedback Ray!
05/26/2020
Judi A.
United States
Lactigo great!
Excellent product! Thanks Phil Gaimon!